Due to the various mandates from Governor Roy Cooper concerning the Coronavirus, Pastor Gailliard has prayerfully made the decision to cancel all scheduled activities at Word Tabernacle Church for the remainder of the month of March. This includes Sunday Worship, Bible Study, scheduled meetings and all events on the calendar. As we hold tight to the Word of God remember what we were taught about
"Trust" by Pastor Gailliard!
Updated: Tuesday June 30, 2020
Watch Pastor Q & A
Updated: saturday mAY 16, 2020

Message from Pastor Gailliard
Op-Ed - Why Church Buildings Should not Re-Open.....Yet
Over 500 years ago,Martin Luther nailed his 95 Theses to the door of the castle church in Wittenburg igniting what we know as the Protestant Reformation. Two thousand years ago an innocent man was crucified outside the city on a hill called Golgotha paving the way for all of mankind to be saved. The two most significant acts of the Christian church both occurred outside the church building. Not to mention, the Apostle Paul spent most of his ministry physically distanced from those he repeatedly expressed he longed to see. Yet, somehow, churches were planted and the New Testament was written. Buildings are important,but they are not to be worshipped. The notion that Christians cannot worship without assembling together in a building is flawed both scripturally and historically.
The recent lawsuit filed in Greenville federal court blocking the Governor's Executive Order restricting indoor religious services asserts that churches are being treated differently than retailers and other secular businesses. Well, churches are different. Churches should have stricter re-opening guidelines than restaurants or hair salons for the simple fact that we gather far more people in close contact for longer periods of time. Reduced to the lowest common denominator,the church gathers people. We refer to our memberships as "congregations", "fellowships", "assemblies". The typical church gathers 10-100 times the people of any other community-based business and North Carolina has more churches than any other state in America except Texas and Florida.
More importantly churches are the only community-based business with the mission to love our neighbors. One infected person in a gathering of even 100 people puts at risk an entire community. This is not loving. It is especially not loving to African Americans who are disproportionately impacted by this disease. Churches continue to worship and develop disciples – virtually. In many situations churches are growing. Our first amendment rights have not been violated.
So, while God has allowed for this season of evangelism, racial reconciliation and innovation, the response has become-"let's sue.

"Churches that open too quickly are treading on dangerous ground. Each congregation should assess within their local church context, "what is our real motivation for opening now?" If it's because of money, then I would remind you of Jesus' words in Matthew 6:24 – "No one can serve two masters.. " If it's because of loyalty to conservative ideology, political party or race,then consider Colossians 3:3 "...your life is now hidden with Christ." These are hard times for us all and we need the church more now than ever. I too am eager to hug our members again;I just want to have as many of them alive as possible to hug.
James D. Gailliard, is Senior Pastor of the 3,000 member Word Tabernacle Church in Rocky Mount, NC
Updated: sUNday mAY 3, 2020

STATE OF CHURCH ADDRESS
Updated: Friday April 10, 2020

SPECIAL ANNOUNCEMENT
Updated: thURSday March 26, 2020

ONLINE STATUS
Sunday Worship
Listen live on Choice 92.1 FM at 8 am

Call In 978-990-5000 Enter access code 731704#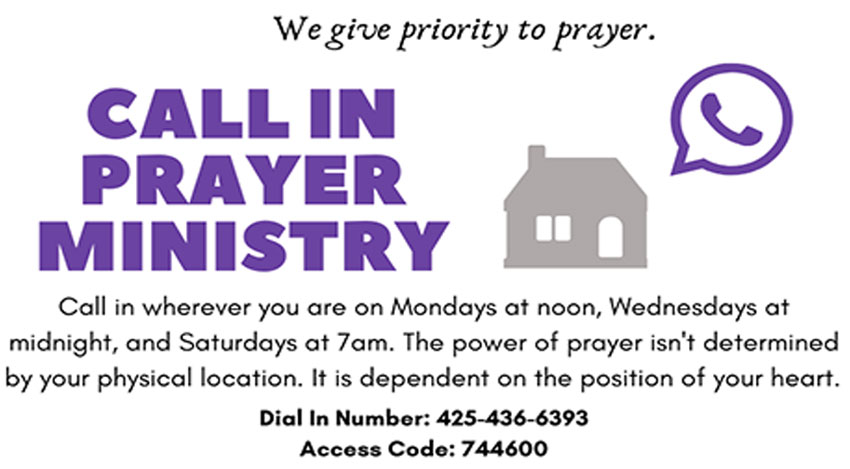 If you need someone to pray for you
email
or call our prayer line.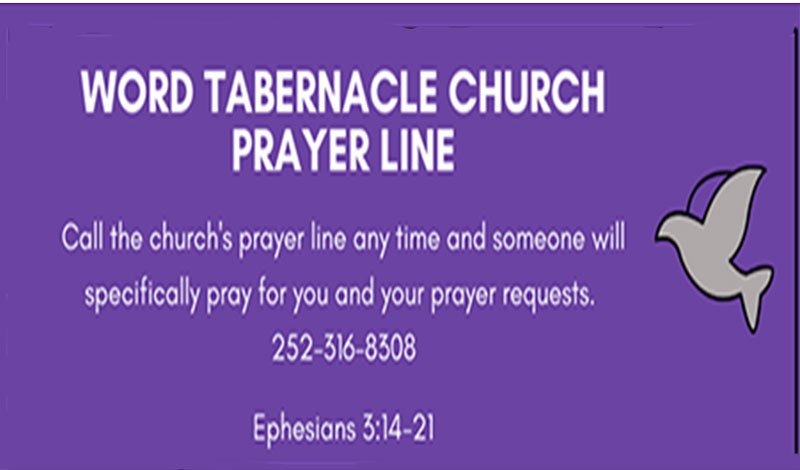 Don't miss the updated weekly informational calls, if you are not subscribed you may dial in and listen every Thursday evening at 978-990-5000 access code 731704#
---
Updated: MONday March 24, 2020
OPERATING STATUS
Current Operating Status / Building Access: Closed
To stay in line with the current CDC guidelines, all WTC facilities are currently closed. Only essential WTC employees will be granted access to buildings.
Sunday Worship
Online streaming on our website, Facebook page and Youtube at 8:00am, 10:00am & 12:00pm
Bible Study
Online streaming on our website, Facebook page and Youtube on Tuesdays at 12Noon & 7pm
Events
ALL meetings and gatherings outside of our Sunday worship services have been suspended until further notice beginning March 13, 2020.
Funerals
For details regarding how funerals will be handled, please contact WTC Administration Office,